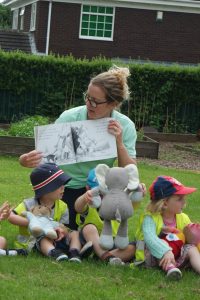 Today, Wednesday 22 June 2016, we all walked up to 'BIG' school with our teddy bears as we were meeting up with our friends from Woodlesford School Nursery.  They had their bears too and together we all had sooooo much fun.
We played on the tyres in their school grounds and our teddies were almost as good at jumping off them as we all were!  We listened to the story 'We're Going on a Bear Hunt' and we were so clever as we joined in with all the repetitive parts and we were great at sound effects too!  After the story we split into three different groups and we all took part in different activities.  We played parachute games with our teddies and we also used the 'pea pod' to play 'pea pod pressed!'.  Our teddies flew high in the air as they 'zoomed to the moon'.  We also loved waving at our friends as we lifted the parachute in the air and looked underneath it like a tent.
Another group went on a bear hunt through the environmental garden, we pretended to squelch through mud, fight our way through the long, wavy grass and keep a look out for the bear who was hiding from us.
All this was occurring whilst the last group took part in craft activities where we made rubbings with crayons to reveal a bear, we drew our own bears and showed how clever we were by cutting out bears to stick on a headband.
After all the groups had had a turn at each activity we all sat down to eat with our bears.  We had a yummy picnic and we chatted away happily with our friends.
It was such a fun morning and, as one little girl said spontaneously on the walk back, 'It was great!'  We waved a cheerful goodbye to our school nursery friends and thanked them for letting us come and explore their fab school grounds.  Then we walked an exhausted walk all the way back down to Jollies.
All the Jolly grown-ups were beaming as we had made them so proud as we had listened carefully, walked sensibly, played beautifully, been so friendly and polite and our teddies had been extremely good too – as they must have been following our excellent example!!